Purchasing a Puppy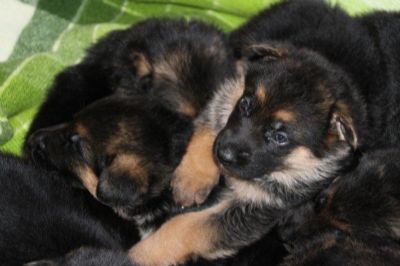 Kantenna Kennels put a lot of time and resources into the breeding, feeding, rearing and care of their puppies. Early socialising and training will help your puppy be the best he can be and a responsible member of the community. We encourage all new puppy owners to attend obedience training classes.

As the breeder of the litter we have first hand knowledge about the temperament of the parents. We evaluate each puppy's personality to try and match new owners needs and lifestyle to ensure your new puppy is right for you. If you lead a quiet family life you certainly don't need a highly driven dog who never sits still, chases flies all day and barks at a leaf falling from a tree. On the other hand if you live a busy outdoors lifestyle you will love that special dog who can't wait for you to pick up the car keys and his lead and head out the door.

Kantenna puppies are fed super premium puppy products and wormed with Milbemax every week from 14 days of age. Puppies are also Vet checked, registered, pedigreed, vaccinated, tattooed and micro-chipped and come with a comprehensive diet chart. We also provide a 'Health Contract' against hereditary disease and information on rearing and training so that your GSD will be a sound happy member of your family.
Contact Details
Sharon & Diane Ballantyne
Coominya & Brisbane/Gold Coast, QLD, Australia
Phone : 0408 702766 or 0411 433739
Email :
[email protected]